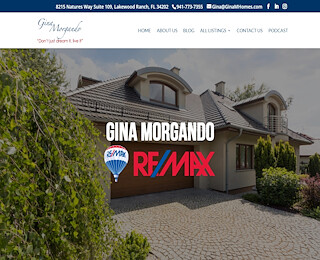 Purchasing a home in Sarasota or anywhere in Florida involves a lot of complicated processes and paperwork. From searching for the best home deals, home inspection, negotiating, and closing the deal, this can take several weeks. To save time and reduce stress, always turn to Gina Morgando anytime you want to buy a home in Sarasota. I am your trusted real estate expert. For more than 7 years, I have been helping homeowners, businesses and investors to purchase, sell, or rent real estate properties. No matter your preference, I can get you the right property that suit your budget and needs.
What Do I Do If I Want To Buy A Home In Sarasota?
Buying a home in Sarasota is not very different from buying a home in other parts of the United States. Like every other real estate market in the country, however, there are some uniqueness you can't just ignore. Here are few important steps you will have to take in order to buy a home in Sarasota:
Find A Good Real Estate Agent – This is the best thing to do whether you are a local or new to Sarasota because a good real estate agent will help you avoid many pitfalls
Determine Your Purchasing Power And Financing Structure – You have to understand your purchasing power early so that you bid for the right properties. A real estate agent will help you determine this and the right financing option for you
Get Preapproved – Some sellers will take you more seriously when you are preapproved. Unless you are buying cash, it is important you get preapproved
Shop For The Right Property – This is where the real estate agent can be very helpful again. Good realtors have access to all kinds of properties, including ones that are not listed
Make An Offer For The Property Of Your Choice – When you find the property you want, make a reasonable offer
Open Escrow With A Local Real Estate Attorney – If your offer is accepted, open escrow with an attorney and the property will be marked 'under contract'
Make An Earnest Deposit Into Escrow With The Attorney – At this point you can make an earnest deposit which is fully refundable if the deal doesn't close
Have The Property Inspected – Arrange for home inspection, some issues can be fixed or you get some price reduction
Go Ahead And Close – If everything goes smoothly, this is the point to make payment and close.
How Do I Buy A Home In Sarasota?
There are different options available for anyone that wants to buy a home in Sarasota, Florida. The major options available to you are:
Cash Buying – you have the option to pay in full for the property of your choice
Loan Buying – there are reputable lenders that will provide mortgage loans for you
Rent to Own – there are companies that will buy then rent to you with option to buy.
Schedule An Appointment Today!
Do you want to buy a home in Sarasota, FL? Schedule an appointment with me today. I will be available to speak with you and discuss the options available. An amazing experience awaits you.
Buy A Home Sarasota
Gina Morgando, LLC, MBA
9417737355
8215 Natures Way #109
Lakewood Ranch
FL
34202
View Larger Map