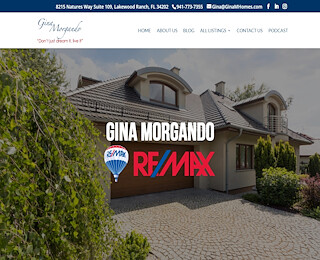 Purchasing a house is an accomplishment in life, and it tops the bucket list for many people. If you're looking to buy a home, then you should consider several factors such as the style, size, neighborhood, age, and cost of the house. Whether you want to purchase a home to upgrade or as an investment, you will definitely pay more attention to residences located in an area with good educational facilities, excellent infrastructure, and social amenities.
While many buyers struggle to find the perfect location, Parrish is an ideal place to purchase your home. With the help of GinaMHomes, purchasing a home in Parrish will be a walk in the park.
Why Should You Buy A Home in Parrish?
Parrish has been at the top in the list of real estate hotspots. It is a charming little town with a beautiful atmosphere.  Developers have envisioned it as a massive residential community with 23,000 new homes yet to be built. Many people prefer living in Parrish because of its unbelievably convenient location. Parrish is a bearable commute from many places. It lies close to other towns like Downtown Sarasota, Tampa, and Downtown St. Pete. That means, for instance, if you are a family person and your spouse is working in Englewood while you are working in Tampa, there's no need to stay away from your family because of work. You can easily commute from Parrish.
Parrish also has educational facilities surrounding it. Kids can ride their bicycles to school in North River High school, which is in the middle of the town. The cost of a new home in Parrish is quite competitive compared to the price of homes in other cities. Besides, if you are a real estate investor, now is the right time to buy a home in Parrish if you intend to resell it. You're sure to make a profit since for the last 12 months; the home appreciation value has been at 9.3 percent.
What Are the Main Attractions in Parrish?
Many cities surround Parrish.  Among them Sarasota. Sarasota is an affluent resort area with an interesting history. The city became the leading resort in the early 1920s, and it has recreational features such as golf playgrounds, making investing in real estate in Parrish quite attractive. Other cities include Bradenton Beach, St. Petersburg, Pasadena, Myakka city, Lithia among others.
The town is conveniently located close to well-known attractions such as:
Kennedy Space Center, Cocoa Beach
Busch Gardens, Tampa
Ellenton Premium Outlet Mall
Walt Disney World
Bradenton Public Beach
Siesta Key Public Beach
Everglades National Park, Everglades City
Bottomline
Do you want to purchase a home in Parrish? GinaMHomes is here for you. Whatever type of home you need, we invite you to allow us to help you during this exciting period.
Gina Morgando has the experience you're looking for when you need to buy a home. We have assisted home buyers over the years in finding the homes of their dreams. Contact us today on 941-773-7355 to discuss your needs.
Buy A Home Parrish
Gina Morgando, LLC, MBA
9417737355
8215 Natures Way #109
Lakewood Ranch
FL
34202
View Larger Map